I wish I was visiting Los Angeles next weekend! April 22 to 25 marks the first annual Turner Classic Movies Classic Film Festival, which will show exceptional films on the big screen.
I grew up watching TCM pretty much since I was in pre-school – most of our family videotapes of old black and white movies began with host Robert Osborne introducing a film with juicy tidbits. I could explain obscure trivia and hum the TCM commercial jingles. As my dad likes to tell people, "My daughter grew up on TCM." I'm sure it was unusual for such a young kid to prefer watching Monkey Business over an animated Disney film, but I'm grateful I was exposed to quality movies when I was so little.
Although the ticket price is steep ($499 for one of the lower end packages), individual movie screenings are $20 apiece and $10 for students. I'm sad to miss out on seeing The Graduate or Singin' in the Rain on the big screen, but hopefully others will enjoy this fabulous four day festival celebrating classic movies!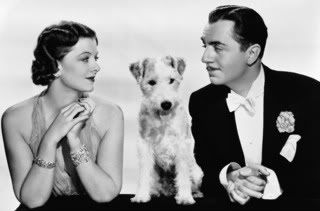 The Thin Man series is one my favorites!
Nick and Nora are an excellent drunk detective duo.